Decided to go down to the Great Ocean Road over Cup weekend with a bunch of mates. A really good friend of mine, E, who came along, travels heaps around VIC and knows her way around cities, towns and their good food. She had been raving about the Wagyu Steak Sandwich so we just had to give it a shot!
Mr Hyde has two outside areas - A verandah, and some benches set up on the big sidewalk on Malop St. We were going to sit on the verandah, but Little Angus decided that he didn't quite like the Rottie that was there, so we went outside. Sat there a bit until Rottie and his parents left, when we decided we would have lunch on the verandah as it looked like it was going to rain any moment. Staff were happy to accommodate and were happy to have dogs on the verandah.
Of COURSE we had to have the Wagyu Steak Sandwich, but we decided to give the Wagyu Burger a go too.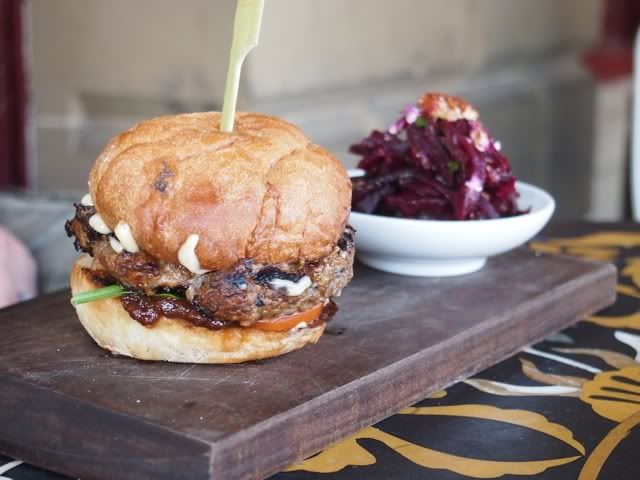 Wagyu Burger w/ beetroot salad

The Wagyu Burger was nice, but beetroot salad that came with it was awesome! The Husband preferred the burger, while I preferred the steak sandwich. I reckon I wasn't tremendously impressed with the burger because it tasted very similar to the ones I make at home (A Jamie Oliver recipe, with lots of spices). The Steak Sandwich on the other hand was yum!
Wagyu Steak Sandwich - even Angus agreed it smelled and looked yummy!

Mr Hyde
(The Age Cheap Eats Country Champion 2010)
11 Malop St, Geelong