Oh when I think about the food from the Bourke Street Bakery, it makes me want to do a little hop, skip and a jig.
We made our way on foot to the Bourke Street Bakery, on er... Bourke Street, Surry Hills, and got there just before 10:30am, which was RIGHT ON TIME, because there was a sign inside saying that pies and sausage rolls are only served from 10:30am onwards. Although when we got there the bakery was busy, it certainly wasn't PACKED, and we managed to order without much waiting at all.
Mind you, we were here for pre-lunch 'brunch' (we decked off immediately to the fish market right after), but could not resist ordering a pie, a sausage roll, a tart, and two iced-coffees.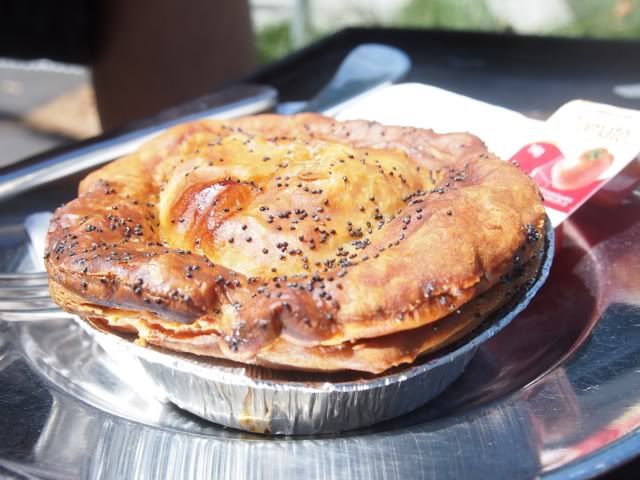 Beef Brisket Pie
Doesn't look fancy or sophisticated in any way, but it was so good! The brisket was tender and juicy, there was so much gravy; very flavoursome but not overly rich in taste. There was so much filling and gravy just spilling out upon the first bite, calling out to you "eat me, eat me!"
I do have a really bad photo of the inside of the beef brisket pie, but it didn't focus well at all: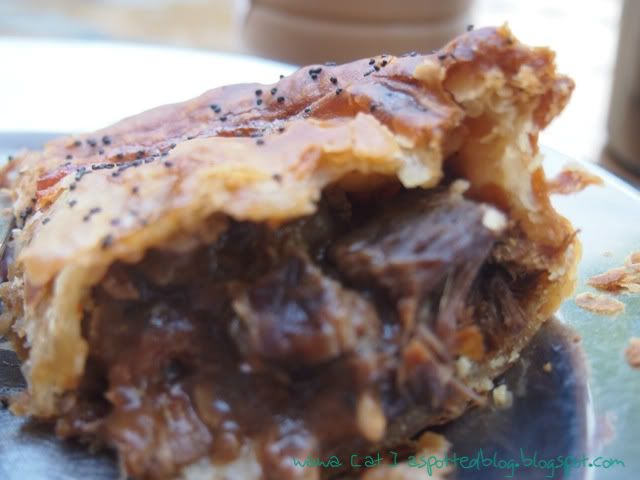 Within the beef brisket pie
Can't see the sh*tty photo clearly, but you can certainly see the juicy goodness spilling out.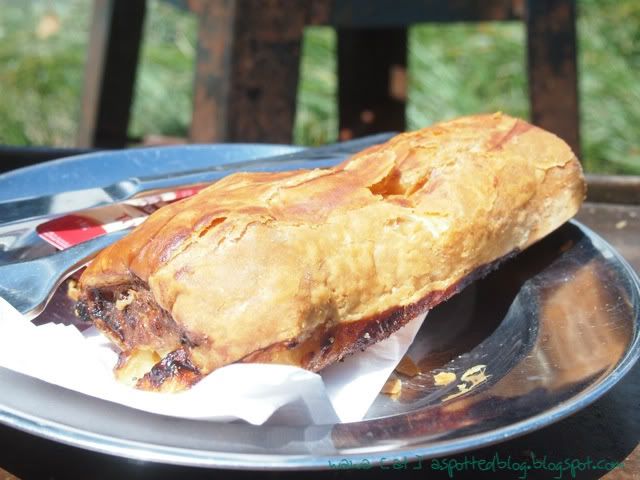 Pork and Fennel Sausage Roll
I don't normally eat sausage rolls. I only ever eat them when they are homemade - nothankyoufourntwentypie!! What I like about good sausage rolls (like this one is) is that you can taste the ingredients of the sausage and it's never too salty.
The pastry of both the pie and sausage roll (I will regret not being able to say pieS and sausage rollS until our next visit) was so buttery but not at all greasy!! Quite often I'd feel sick of eating a pie or sausage roll by the end of it, but these ones were the exception.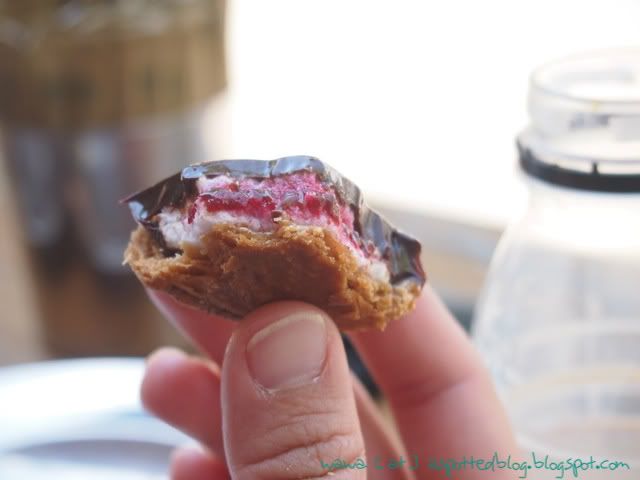 Dark chocolate tart with marshmallow and raspberry
This was really yummy! The pastry of this tart was very very unique to me - it was like a shortcrust pastry marrying a filo pastry and this was their offspring. It was crumbly like a shortcrust, but yet you could see and taste that there were layers to it. Very nice, and not at all, overly rich or sweet. I could have easily downed a few more of these babies! So easy to eat!
Because of our planned departure to the Fish Market right after our visit here, we HAD to use our willpower to pull ourselves away from the counter and not order more. Actually, it was our willpower and the super-long line that had built up by the time we finished eating.
Only PART of the line outside queuing to order some yummy goodness
Overall, this place makes me happy and sits quite comfortably on my Sydney to-do/to-eat/to-conquer list! It's cheap, it's good, and next time, I'm ordering a stack of pies and sausage rolls to take home to Melbourne!
633 Bourke St, Surry Hills, NSW