When one has a plan, one must be disciplined.
When one has a plan, one must be determined to follow through with what has been planned.
We had a plan to be in Sydney to eat! I hate waiting, so had planned to be at Porteño when it opened at 6:00PM. But NoooOOo- The Husband "didn't feel like it (yet)" and dilly-dallied about in the hotel, that by the time we got there, it was 7:30PM. By that time, we were informed by the front-of-house staff that:
(i) it was going to be at least an hour and a half's wait (this was a Monday evening), and
(ii) there *may* not be any more 8-hours-cooked lamb and/or pork left by the time.
What?! The horror! The horror! It's like saying Frodo Baggins and Samwise Gamgee travelled all the way from the Shire to Mordor only to be told that Mount Doom *may* or *may not* be open (Note: Lord of the Rings reference).
Anyway, we decided to just wait for a table, since their Gardel's Bar upstairs had a bar menu. The 1930s/40s-themed bar was nice - apparently it was named after the famous Argentinian tango musician and actor Carlos Gardel who died in the 30's.
Gardel's Bar
Being 7:30PM, there was no way we would not order anything. Plus, the bar menu (totally different to the one downstairs) looked awesome. A Sydneysider friend, K, recommended the pork slider (pulled pork mini burger, $4.50 each) which we devoured without even taking any photos. We also ordered the croquettes and the miso-marinated lamb ribs - so so delicious!
Miso-marinated lamb ribs


Croquettes
About a quarter to nine we were finally seated on a shared table downstairs at Porteño. The problem was - we were already kinda full by then. We refused to let that slight problem deter us:-
Entree: LENGUA EN ESCABECHE - Pickled Veal Tongue ($8)
It had a nice sour-ish tang to it, and the tongue was certainly tender. Quite refreshing, oddly. yumm!
Pig and lamb being cooked for the past 11 hours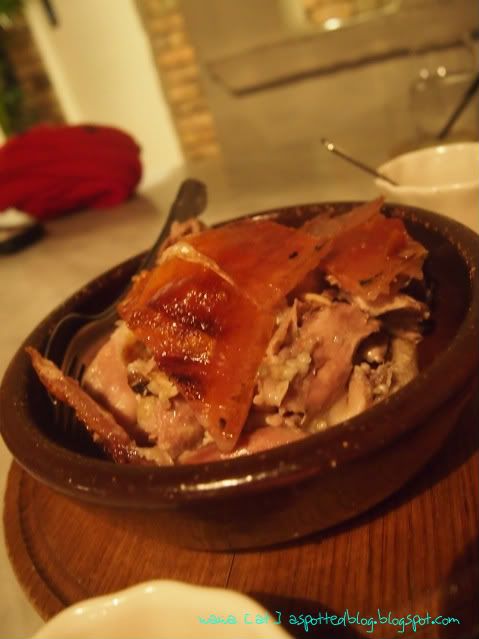 Main: CHANCHITO A LA CRUZ - 8 hour Woodfired Pig ($44)
It was so, so soft and tender. The crackling was crispy and had a lovely crunch to it, and the meat had the right amount of fat awesome delicious goodness. The Chinese in me was dying to eat this with some white Jasmine rice :)
Side order: RADICCHIO ASADO CON PANCETTA
- Grilled Radicchio, Root Vegetables, Pancetta and Hazelnuts ($14)
The flavour of this dish was yummy, but perhaps way too rich for two people who "weren't hungry (from eating pork sliders, fried croquettes and lamb ribs) in the first place but yet ordered (a lot of) pork for dinner".
Overall, I'd HIGHLY recommend this place, but the experience would be far more positive in a larger group. No more than 7, as dinner guests must then go on the set menu. Reservations for 5 guests or more. I'd still recommend a visit even if it isn't a large party.

But come at 6pm!