Through the wonders of Facebook, we managed an impromptu get-together with our lovely sort-of neighbours on our last evening in Sydney. Never mind that we live only 3 minutes drive away, but we had to catch up 1000km from home :)
I had been to Chat Thai in March 2010, but was not too terribly impressed that time - the tomyum I felt that time was too spicy - not "hot spicy", but "spice spicy" (HELLO!! I AM LEMONGRASS! YOU SEE ME? YOU HEAR ME? YOU TASTE ME! NO! I AM GALANGAL! TASTE MEEE!!!) for my taste. We decided to give them another try, as friends of ours do like the place.
We opted to have a very early dinner at 6pm, as we had a flight to catch that night. The place opens at 5pm, but we were seated quickly at 5:45pm. Just like the numerous popular eateries, there was a massive queue at the door by the time we left at about quarter past 7.
Loved the exposed brick walls
I was willing to give Chat Thai another try, but was a bit unwilling to try the tomyum soups.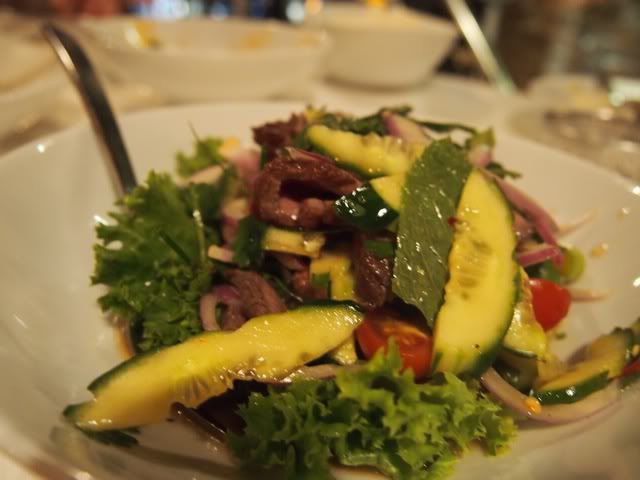 "yum nuea" - char grilled beef salad with tomatoes, cucumber and fresh chilli
The "yum nuea" really was "yum" - pun unfortunately intended. Fresh flavours, plus tender beef = never a bad combo .
"gaeng keaw gai" - green curry of chicken with apple eggplants, kaffir lime leaves and basil
Hmmm... it certainly wasn't bad; the dish was flavourful, but nothing made it stand out and go WOW! maybe I'm just biased because I don't generally fancy my chicken pieces sliced.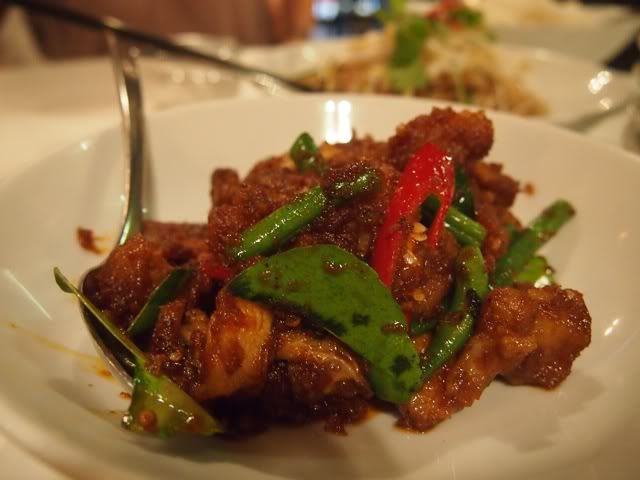 "mhu grob padt prik khing" - Stir fried crisp pork belly and wild ginger in red curry paste
Now THIS was fantastic. The pork belly was both crisp but sticky. Just lovely. A definite must-try dish.
"padt thai" - stir fried thin rice noodles
with chicken, dried shrimps, bean sprouts, garlic and chives in a tamarind and palm sugar sauce
To me, Padt Thais are always considered the benchmark dish in a Thai restaurant. Chat Thai did not disappoint - flavours and textures were great. The noodles weren't mushy and the beansprouts were still juicy and had their crunch. Would happily order this again!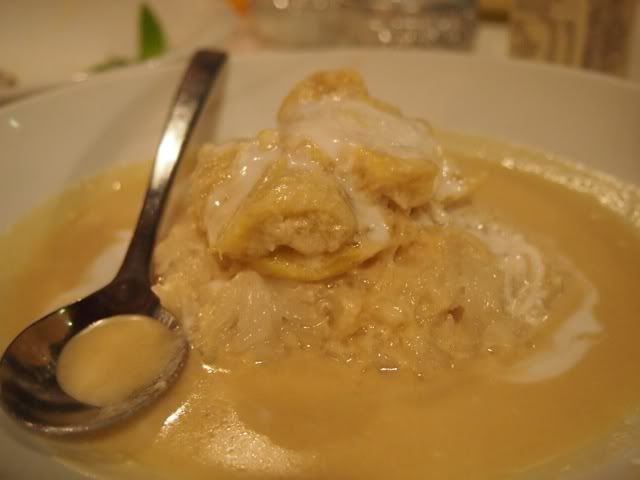 Sticky rice w/ Durian
For dessert, we decided to share the Sticky rice w/ Durian and Sticky rice w/ Mango between the four of us. I loved both desserts! I know this is a terribly biased view as I am the #1 fan of glutinous rice, and I love mangoes and durians, but my dining companions were very happy and satisfied with the desserts as well!
Overall, we were very pleased with the meal. This experience did change my view of Chat Thai - if we lived in Sydney, I'd happily come back again. But if we were to come back to Sydney for another food trip, I'd probably give the other numerous Thai places a go instead, to compare.
After three and a half solid days of solely being together, we were thankful for the company we had, and E and A shouted us dinner in celebration of our 3rd wedding anniversary - so THANKS FOR THE LOVELY DINNER AND COMPANY, E, A and L!