We came by with Angus a couple of months ago but was told we had to wait up to 30 minutes for a table outside. We decided not to wait that time as they would not take our mobile number and telephone us when a table was ready.
So this time, we decided to try our luck again to get an outdoor table, and only waited for about 5-10 minutes, before we were seated. The Husband ordered an iced-coffee, but didn't fancy it at all - to him, it was way too milky and tasted more like a milkshake. Whatever happened to cold milk on espresso with ice, topped with a scoop of vanilla ice cream? My cafe latte was fine though - no complaints.
Upon recommendations from a couple of friends we bumped into who LOVE Le Chien (which by the way, is "Dog" in French), we decided to order the Homemade Baked Beans and the Promite Special
Homemade Baked Beans
w/ additional side order of sausages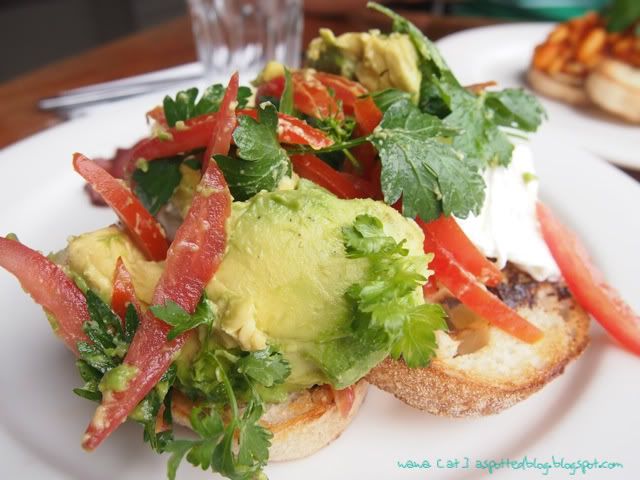 Promite Special- poached eggs, avocado, tomato on
sourdough bread spread with promite (kind of a sweeter, lighter version of vegemite)
The baked beans didn't impress us too much, but the Promite Special is certainly worth going back for - very very flavoursome!
Disclaimer: we live in the west of Melbourne, so Seddon is a stone's throw from us. I wouldn't necessarily recommend that someone all the way from Springvale make the trek JUST for the Promite Special!