Busy for an opening weekend

We paid a visit the first weekend these guys opened shop - a coffee buff friend, E, knew that the owner(s) has something to do with Atomica Coffee (or something or rather), so the coffee was going to be good. It's always exciting to witness the growth of great coffee on 'da west side.
The coffee was good, which is great! Always exciting to see a COE (Cup of Excellence) on a coffee menu!! But one of the wait staff seemed to struggle with the more complex coffee questions, e.g. "what would you recommend on the filter?" Response, "er... black coffee" or something to the same extent. She did quickly go and ask someone else and came back promptly with a more appropriate response. So we'll let that one slide as it was only their first weekend!!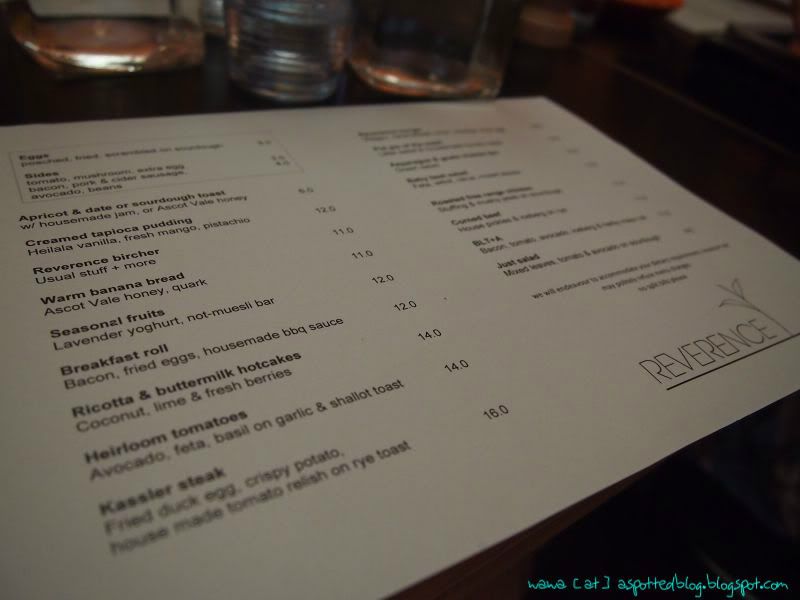 Being a brekkie person, I was keen to give the breakfasts a go; but turned out the lunch items looked way better, but we couldn't yet order them :(
But we were mightily impressed that the coffee and drinks menu was equally extensive as their food menu (drinks menu overleaf of food menu) :)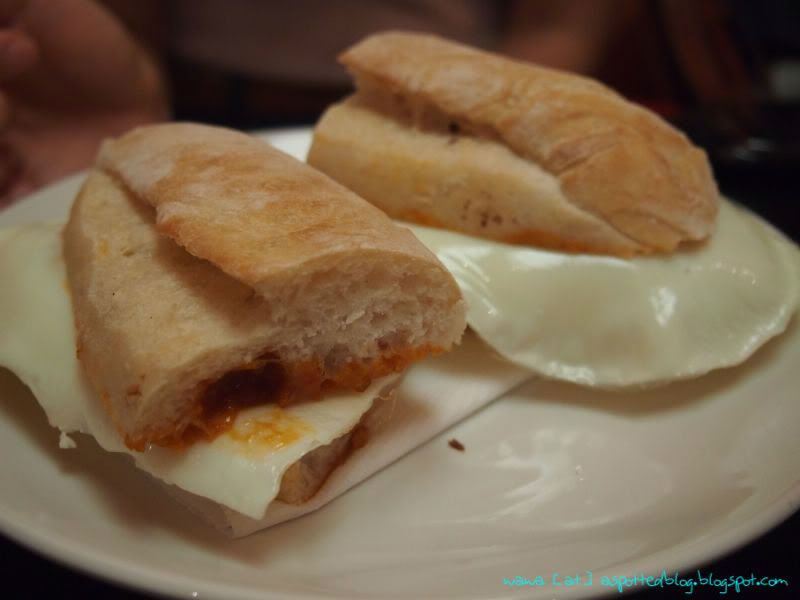 Breakfast Roll - Bacon, fried eggs, housemade BBQ sauce
I must admit - we weren't too terribly impressed when this came out. For starters, the roll wasn't warm nor toasted. I'm sure some people would prefer their roll as-is, but perhaps offer the option of having the roll toasted? S, who ordered this, felt it was okay, but nothing fantastical. I'm still wondering how they fried the eggs so prettily :P
Scrambled Eggs w/ Sausage and Mushrooms
As usual, the Husband ordered the big breakfast. The sausage was so delicious! It really tasted like meat, instead of those highly processed cr@p. One thing that would improve this and make it really good is to serve it with a tomato relish. That'll really add some freshness and tang to the dish.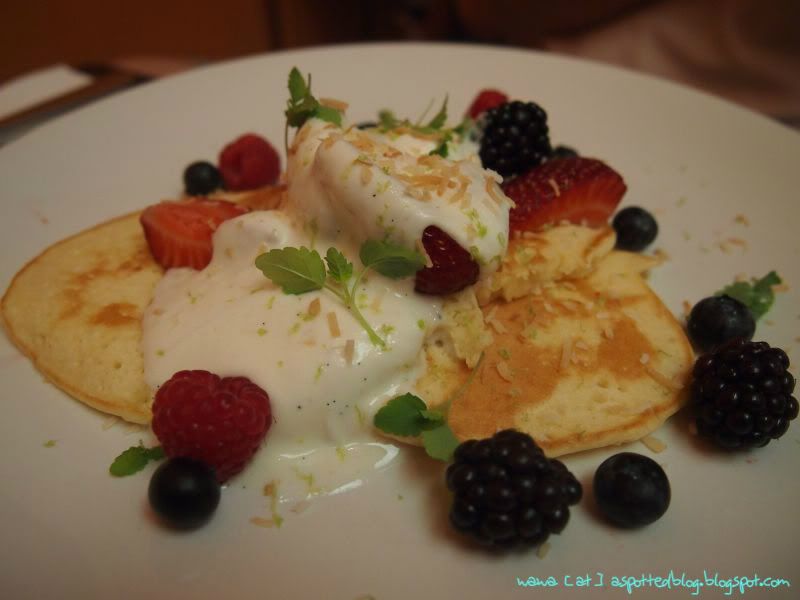 Ricotta and Buttermilk Hotcakes w/ Coconut, Lime and Fresh Berries
If I had ordered this, I'd happily finish it up. The toasted coconut and lime did make this a special dish, but J, who ordered this, felt that the hotcakes could be improved on. I was very happy with the flavours when I had a taste, but looking at the photo now I do think they look a wee bit flat. Making them a bit more substantial (fatter hotcakes, or an additional hotcake) wouldn't hurt either.
Heirloom Tomatoes w/ Avocado, Feta, Basil on Garlic and Shallot Toast
I had no regrets ordering the heirloom tomatoes - I thought I had the best dish on the table. The flavours were delicious and fresh. The freshness of the tomatoes was balanced by the creaminess of the avocado and the cheese. Great tasting dish. Only gripe - the bread. I don't know why, but I wasn't too impressed with the texture of the bread. The flavour was yummy, but I could not help but think the texture of the bread reminded me of what people usually get from the local supermarket. MAYBE it was just too light, instead of the denser bread we get at fancy restaurants or the ones made by Phillipa's? Apart from that, yummos! I'd be more than happy to eat it again.
Overall, it was very busy for their first weekend, so well done for getting everything and everyone served with minimal issues! Great coffee; good-ish food; but at least for now, if you're from the other side of town though, it's likely that you'd find several cafes with more impressive food on the way.
But it's a wonderful cafe to have in your neighbourhood - a blessing to the Ascot Vale community and nearby surroundings. And by the looks of it from that first weekend, Ascot Vale has embraced it with open arms.
All the best, Reverence!